Commercial Displays & Digital Signage
Stone's Office Equipment offers Sharp commercial displays in sizes from 40″, all the way up to 90″.
What is Digital Signage?
Also known as commercial displays, digital signage is similar to your typical TV or large desktop monitor. Digital signs are large, flat panel LCD displays capable of showing just about any digital content. There are important differences however. Commercial displays come with additional features that make them uniquely suited for a digital signage application.
How Are Digital Signs Different From TVs?
Digital signage displays can include several additional features not typically found on TV's or desktop monitors. To start with, there is onboard software that comes equipped to run signage out of the box, even without connecting to a PC. Learn more about the differences between desktop monitors and digital signage.
Digital signs may also have a daisy-chain displayport configuration, which allows the connection of multiple displays without any additional hardware or adapters.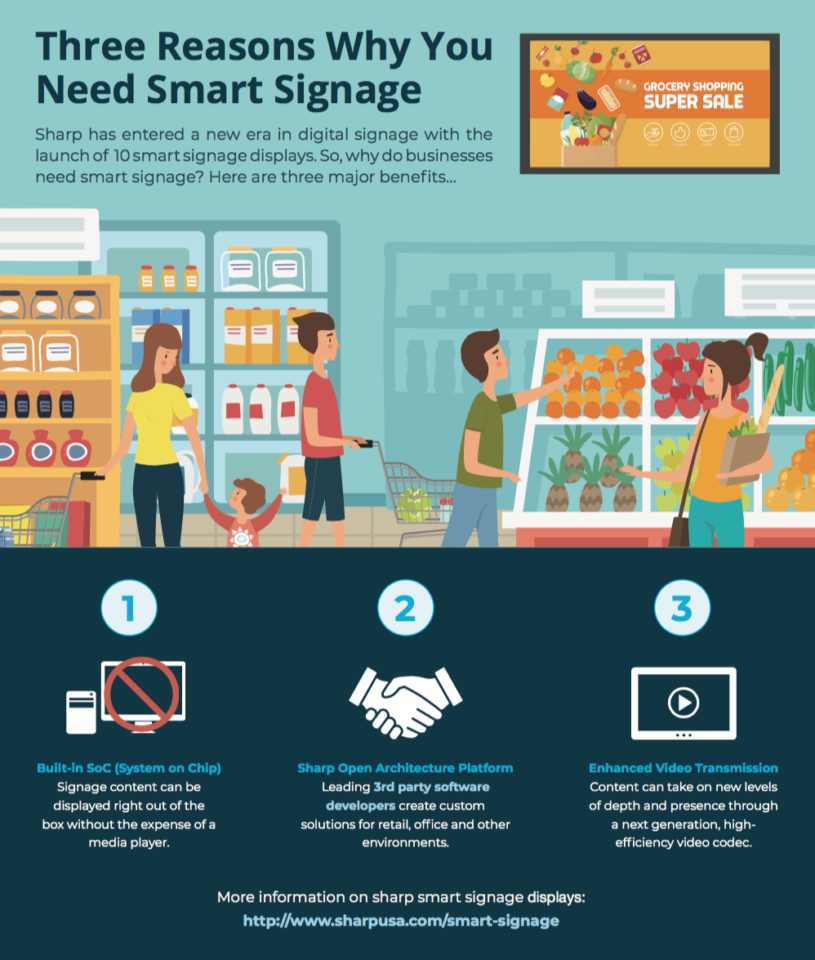 For more details, view this comparison of the 5 top differences.
---
Digital Signage by Sharp
40″ and 50″ Displays:
Sharp PN-M401 and PN-M501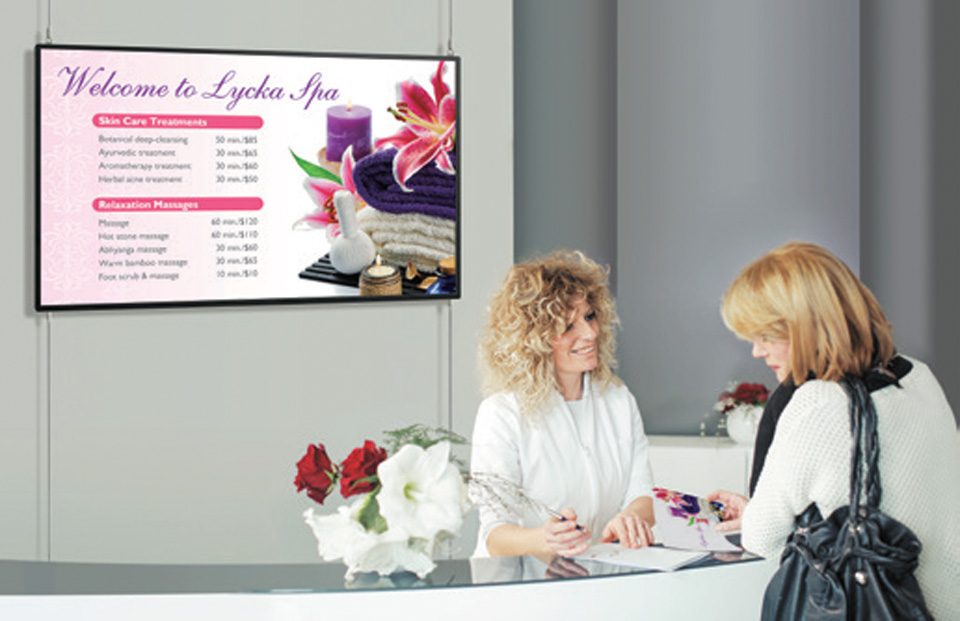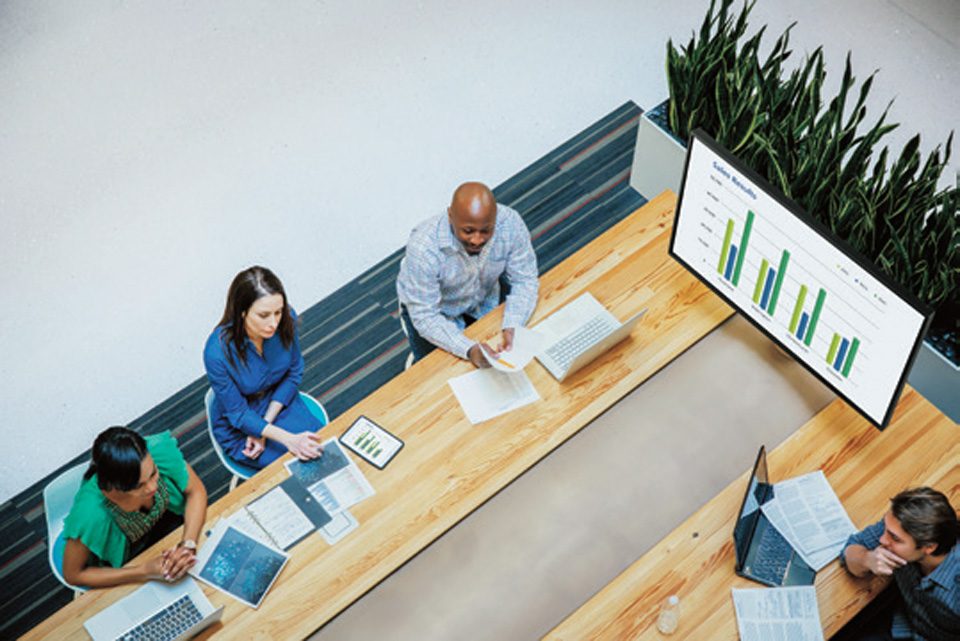 40″/50" Class Screen Size
Built-in SoC controller with Android™ OS 4.4 & Arm® Cortex®-A17 1.8Ghz quad-core processor
Intel® Mini-OPS Expansion Slot supports the optional PN-ZB03H HDBaseT™ 2.0, PN-ZB03W Wireless Expansion & PN-ZB03AO Computing Boards
Optional PN-ZW01 Wireless Adapter
Landscape, Portrait, Face-up, Face-down Operation
Built-in 7W per Channel Stereo Audio System
300 cd/m2 Brightness; 5,000:1 Contrast Ratio
3-Year Limited Warranty
Brilliant High Definition (1920 x 1080) LED Edge Lit Display
Crestron Connected™ Compatibility
65″, 75″ and 85″ Displays:
Sharp PN-L651H, PN-L751H, and PN-L851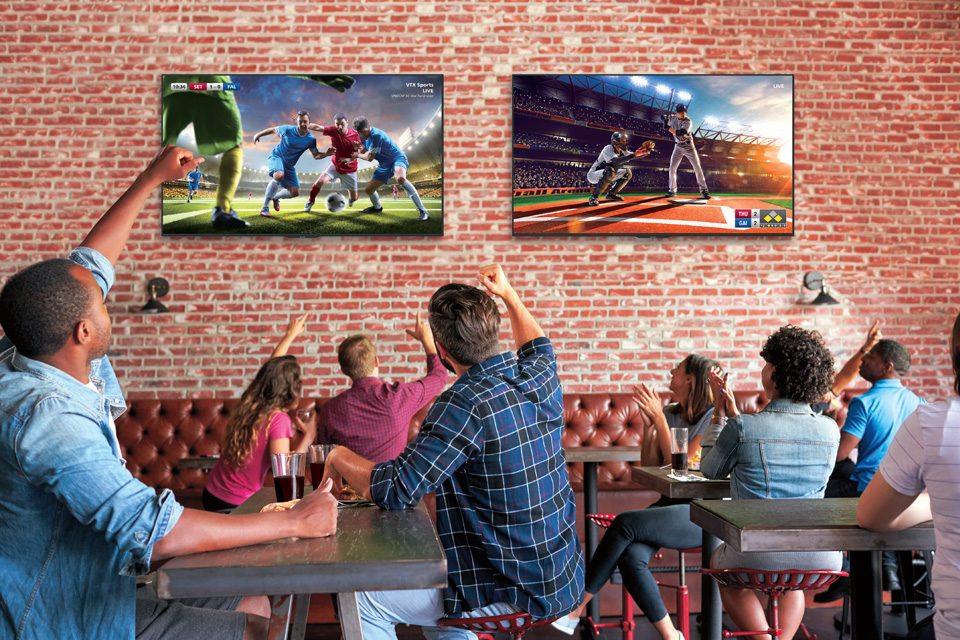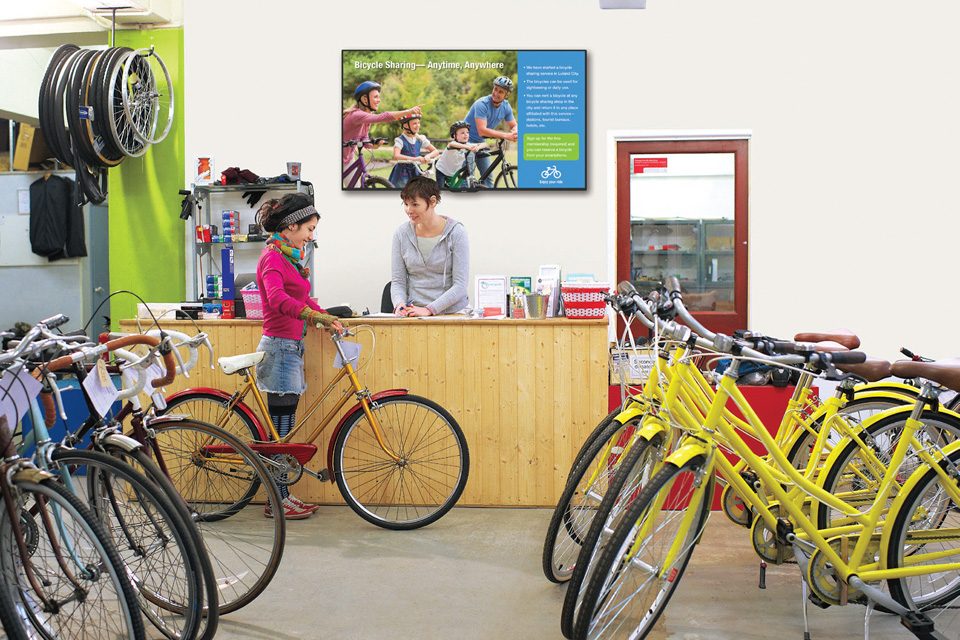 Cutting Edge panel technology: Supporting 4K Ultra HD (3,840 x 2,160) pixel resolution, the interactive displays excel in demanding professional settings, including architecture and engineering. Finger and pen input are differentiated for writing/drawing on the screen with intuitive ease. The Sharp Pen-on-Paper® experience gives writing a natural feel as if using a traditional pen and paper.
Built-in controller with IWB Launcher: No need to hook up a dedicated PC. When the main unit is started, the IWB Launcher is displayed automatically. Simply touch the icons on the desktop for instant access to the features you want to use.
Wireless connectivity: Wireless LAN and Bluetooth compatibility allow wire-free connection to multiple devices—including smartphones, tablets, and computers—that run on Windows® and Android™ operating systems.
Simultaneous writing: The LCD panel recognizes up to 20 touchpoints, so when inspiration strikes, multiple people can use their finger or touch pen to add input.
Software for ultimate functionality: The SHARP Pen Software interface has a menu with smartly arranged icons for easy access to settings. The SHARP Touch Viewer™ interface allows for easy manipulation of different types of files, including Microsoft® Office applications, videos, and web pages. SHARP Display Connect™ supports multifaceted wireless communication. Onscreen content, including handwritten notes, can be shared simultaneously with up to 50 devices.
---
Ask Us About Interactive Displays
The Sharp 4K AQUOS BOARD® interactive display system offers a highly sensitive 4K Ultra-HD touchscreen with Capacitive Touch and Palm Cancellation technology, achieving a distinctive Pen-on-Paper® writing experience. Multi-board and multi-use, the 4K AQUOS BOARD interactive display can find a place in your space. Move it from room to room, or mount it – horizontally, vertically, or facing up.
---
Which Types of Businesses Benefit From Digital Signage?
Many types of businesses can use digital signs to showcase current events, new products or promotions, recent awards or other relevant news and information.
Here are a few specific examples:
Retailers can display specials and promotions near their point of sale
Libraries can feature events, or new releases throughout the facility
Fitness centers can highlight events or health awareness information
Banks can display current rates and specials
Medical facilities can provide tremendous value in lobbies and waiting areas