3 Facts That Prove Your Paper Management System Is Holding Your Business Back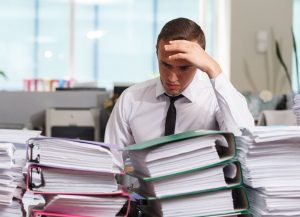 Whether you started your business a year ago or 50 years ago, over time you've established methods for how everything gets done. You order products a certain way. You schedule people to work in a certain way. And you manage your documents in a certain way too. But, getting by with those processes this long doesn't mean it's best to stick with them.
If you're business has been around for a while, there's a good chance you established a lot of paper-heavy habits over the years. But, in the last couple decades, technology has decreased the need for paper usage considerably. It's now easier and cheaper to manage your documents virtually rather than having to handle and store a ton of physical documents.
It's hard to just believe that though, right? To prove that your traditional process is holding your business back, check out these 5 facts about document management:
The average employee spends 30-40% of their time searching for documents or looking through information
. (
KM World
)
It's true! Most companies still operate with some version of their original document solution process. That means either complete or partial reliance on laborious, paper-based workflows. This hurts your efficiency in two ways: First, it takes more effort to manually locate documents. Having your documents available on computers makes them much more accessible, leading to decreased time locating them. Second, there's less time skimming documents to find specific pieces of information. Using traditional filing methods can be like finding a needle in a haystack. But, with most digital document solutions you can search specific words, images and more within seconds.
At any given moment, up to 5 percent of an organization's files are lost or misfiled
. (
PRISM Int.
)
Taking more time to find your documents isn't the worst thing that can happen with traditional document management…not finding them at all is! With physical documents and the processes used to manage them, it's much more likely to lose or misplace your files. The loss of files becomes incredibly expensive, forcing you to reproduce them from scratch (if that's even possible). Digital document solutions will keep your files safe and accessible, no matter what happens to their paper counterparts.
More than 70% of today's businesses would fail within three weeks if they suffered a catastrophic loss of paper-based records due to fire or flood
.
(
The Paperless Project
)
Natural disasters, like fires and floods, can be surprising and very destructive. With a paper-based process, if the documents are ruined then you're just out of luck. Even if some of the documents survive the event, it will be very costly to recover the documents that weren't destroyed. But, with a digital solution, your files will be out of harm's way, even when your office isn't.
It's a fact. Your paper-based process is holding you back.
If your business still uses paper-based filing systems, wasting energy handling documents, misplacing more files and increasing the risk of a catastrophic disaster. Upgrading to a digital document management solution will improve your business' process and the flow of information—maximizing productivity, cost savings, and security.
For more information, contact Stone's Office Equipment today at 804-288-9000.