7 Areas To Consider When Choosing Office Equipment For A Law Firm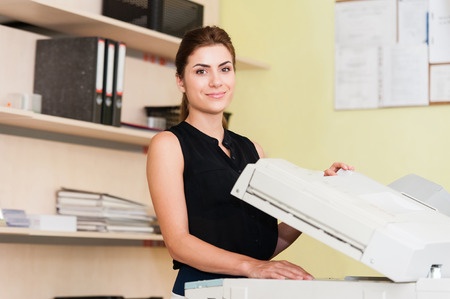 Whether you're going it solo or setting up a large practice, making smart choices when purchasing office equipment for a law firm can mean critical differences in workflow and efficiency. The most successful solutions will be scalable, easy to use and flexible enough to make sure focus stays on the work, not the technology.
The basics of a law office are the same as many other business offices, but law firms must also address regulatory compliance requirements that govern privileged data.
Consider these seven areas when planning your firm's equipment needs:
Printers/scanners/copiers
Legal teams produce reams of documents, but that doesn't mean that all those documents have to exist in hard copy. Making the decision up front to run a (nearly) paperless office will save piles of time and money, and will affect your equipment purchases.
If you're on your own, an entry-level, all-in-one desktop unit might do what you need it to, but you'll sacrifice some efficiency — especially when scanning. Even the smallest practices should look into high-volume scanners with network capability. Ultimately, you want your scanner to integrate seamlessly with your document-management software.
Larger offices that commit to taming the paper beast should elect higher-end multifunction printers for purchase or lease. Look for models that can be integrated with document-management, time-tracking, billing and email applications as well as cloud storage. Be sure the scanner will convert documents to searchable and encrypted formats. When leasing, find out what options are available for clearing the machine's memory of your data.
Computers and mobile devices
Plan device purchases carefully. If you're a one-person shop, a business-grade laptop might be all you need. Larger practices will likely want to anchor support personnel with desktops. Attorneys will need either desktops or laptops, depending on their mobility needs, and tablets if budget allows. Before buying tablets or other mobile devices, check to see what apps are available to accompany your desktop software solutions.
When looking at specs for desktops and laptops, look for at least 8GB of RAM — 12GB if you can afford it — to help run multiple applications more efficiently.
Mobile devices (like tablets and smart phones) can be linked to your office equipment to provide remote printing.
Data backups and security
No matter the size of your practice, data backups and security are critical components of a law firm's IT infrastructure. All those documents you've scanned are worthless if your network is breached and your data is lost, not to mention the legal ramifications and damage to your firm's reputation if privileged data is compromised.
Consider a redundant backup solution: Keep one physical backup and one cloud backup. For very small practices where employees save documents and other data to their local drives, your physical backup could be as simple as an encrypted external hard drive. Larger firms should schedule frequent automatic backups of their servers to encrypted-drive backup locations. When looking for cloud solutions, make sure the service provider allows storage of encrypted data.
Choose business-grade security software and learn how to use it effectively. Enable system encryption to restrict access to data on laptops and desktops. Be sure to include practice-owned and personal mobile devices in your security plan if they access your network.
Don't take risks with your privileged data. If you can't afford to keep an IT security expert on staff, hire a network security firm to secure your systems.
Software
Law firms typically use several productivity tools to track cases as they move through the practice. Different applications include different feature bundles, but in general, a practice needs solutions that address these areas:
Word processing
Security, including anti-virus, firewall and encryption
Email with encryption add-on
Accounting/billing
PDF handler for merging and splitting PDFs and converting other file formats to PDF
Document management for efficient storage and retrieval
Practice/case management for keeping client and case data in a central location
Time-tracking for management of billable hours
The American Bar Association has done an extensive comparison of practice/case management software and offers tips and resources on encryption.
Phone system
If you're in solo practice, you've no need for a business-grade phone system. You can get the basic features you need — voicemail, caller ID, conferencing, call forwarding — as part of most landline, VoIP or mobile packages. If you want to give the impression of a larger office, check out call-management solutions that include the ability to set up a simple menu. You can even hire a virtual receptionist to answer calls for you from a call center. Most pricing plans allow you to buy a monthly pool of minutes, so you'll have to track your usage carefully to avoid surprises when the bill comes.
Larger firms will need more extensive setups with multiple-line phones, a network of voicemail boxes and professional installation. You'll still need to choose between landline and VoIP. If you opt for VoIP, you'll need to decide whether to use a cloud system or host it yourself.
Presentation equipment
Projectors are available to fit almost any budget. Add a screen (or a white wall in a pinch), and you've got a solid, basic presentation setup. If your room is very small, skip the projector altogether and go for a mounted monitor with a dedicated computer or a wireless connection.
Interactive display boards offer a higher-end solution and have a variety of features, including touch screens, pen interfaces for annotating presentations and video conferencing.
Dictation systems
Digital dictation tools make a first draft of your dictation as easy as docking a voice recorder. Files can then be sent to speech-recognition software or an assistant for transcription. Many models offer real-time file encryption and device-locking features. Some systems include barcode integration, which allows you to attach client information to the recording by scanning a barcode.
Choose an Experienced Partner
At Stone's Office Equipment, we've worked with many law firms – some small, some large. We understand the need and challenges facing law firms in today's economy. You can count on Stone's Office Equipment to design workflow and paper-handling solutions that are efficient and scalable, while keeping operating costs to a minimum.