Stone's Office Equipment: Our Family Welcomes You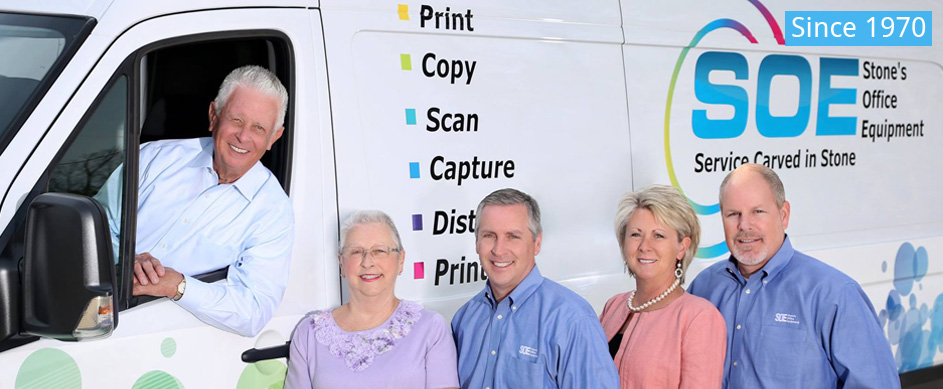 Stone's Office Equipment was recently featured in Industry Analysts, Inc. as a family run and operated business. But, what makes working with a family-owned business so special?
Think about it. Isn't it a great feeling to be welcomed by familiar faces when you walk into a room? Whether the room is in your house or in your neighborhood store, that sense of acknowledgement and appreciation is priceless. And no business can make you feel more welcome than one run by a family.
When you shop at a family-owned business, you don't just get the benefits of a small company with no shareholders to answer to. You get the kind of customer service only available from people who truly care about their products, their employees, and you, the customer. You work with people who remember your name and take the time to get to know you and your business.
As a family-owned and operated business for over 45 years, Stone's is proof that true expertise, great customer relationships, and customized service still exist in business today.
After more than 10 years as a typewriter service technician, Frank Stone founded Stone's Office Equipment in 1970. Over the years, the focus of the company has shifted based on the needs and feedback of the company's customers. Despite being a small, tight-knit company, Stone's has been able to stay ahead of the curve and offer customers valuable services and guidance to maintain the most innovative, streamlined, and cost-effective business solutions possible. It's the staff's extreme familiarity with customers that has truly allowed the company to stay in touch with these needs and continue providing valuable products and services.
If you want to work with a company that you know will have your best interests in mind–a company that will really get to know you and what you need, and will also always be pushing to stay ahead of the curve in order to offer the guidance and solutions you need, then give Stone's Office Equipment a call today at 804-288-9000.