UCI Cycling and RVA – My Experience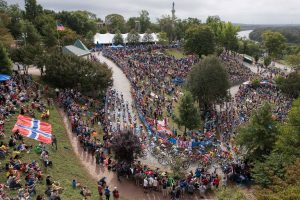 I heard a lot of noise from the media and people on how this was going to be a big event. Then I heard a lot of noise from the media and people on how this was an absolute bust for the city; for the businesses and restaurants. I spoke to people who told me all about how they knew Richmond couldn't pull off something like this; again, regurgitating what they heard from our local media. I asked them if they managed to make it down to see any of the event and most said no. There were varying reasons, like "That's not my thing" (meaning biking) or "You wouldn't catch me down there…" (by down there I'm guessing downtown?) Most of the negative chatter was from people who never attended the event including some of the radio personalities with the biggest voices.
Let me tell you what I know to be true based on my own experiences:
Richmond is awesome
People showed up (lots of people)
Some businesses did very good – mostly the ones who embraced it
It was an awesome event to watch and be part of
Richmond2015 hit a homerun
My experience was the Conquer the Cobbles, hosted by Sports Backers and sponsored by Dominion on Friday evening September 25th. About 1,500 active (and not as active) people lined up at Sports Backers Stadium for a chance to ride the UCI Road Course. I was one of those people. I mean how many times in my life will I get to ride a closed, world event race course the day before the event? One of the marketing materials said this is like getting the play Augusta National the weekend before the Masters or Wimbledon center court the night before the finals. That may be overstating it but you get the point. What impressed me was the volume of people lined around the course cheering average people like me along. All down Monument Avenue people were sitting on their steps or standing at the barricade cheering. On Broad Street, Monroe Park/VCU, Main Street, Libby Park Hill was crazy, up 23rd Street both sides were full of cheering spectators. Travel along Governor Street and people were there yelling out words of encouragement…keeping going!! You're almost there!! I just kept thinking, do they know I'm no one famous? My point? Richmonder's showed up on a dreary Friday night to yell, scream and cheer for people they knew and even those of us they didn't.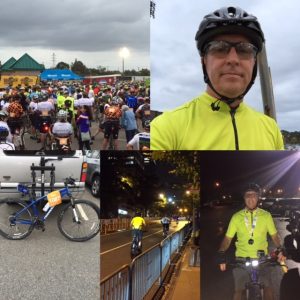 Sunday I returned with my children so they could see this historical event and it was awesome to see hundreds of thousands of people lining the streets of little ole Richmond – the City that Can't. Well, I'm here to tell you they CAN! If you made it down to watch, you know what I'm talking about; however, if you didn't you missed out.
What's my take away from all of this? Don't let others (especially the media) influence your decision, go see for yourself and then make your own decision. You may be surprised!