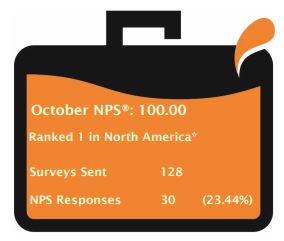 Customer Feedback
To understand what matters to our clients, we use the Net Promoter Score® system through CEO Juice and send out a survey with each interaction we have with our customers. While we don't expect the individual to complete each study, we want them to have the opportunity to grade our employees based on the customer experience received.
We take the feedback and share it with our team to learn what truly matters and how we can improve.
Customer Service
We know that servicing the customer matters. This is what creates a long-standing business relationship with them. We get it, and we understand! Our goal is to be the best option for any business looking for someone to supply and service their office print needs. Period.
Team
What makes everything talked about above happen is the team performing the work. We have the best team, from our dispatchers to our technicians, from the warehouse and delivery team to our business account managers. Each team member understands their role and how to perform correctly with business empathy.
Our Mission
To make our customer's businesses better and lives easier by going above and beyond and offering the best customer experience.