The Case for Larger Displays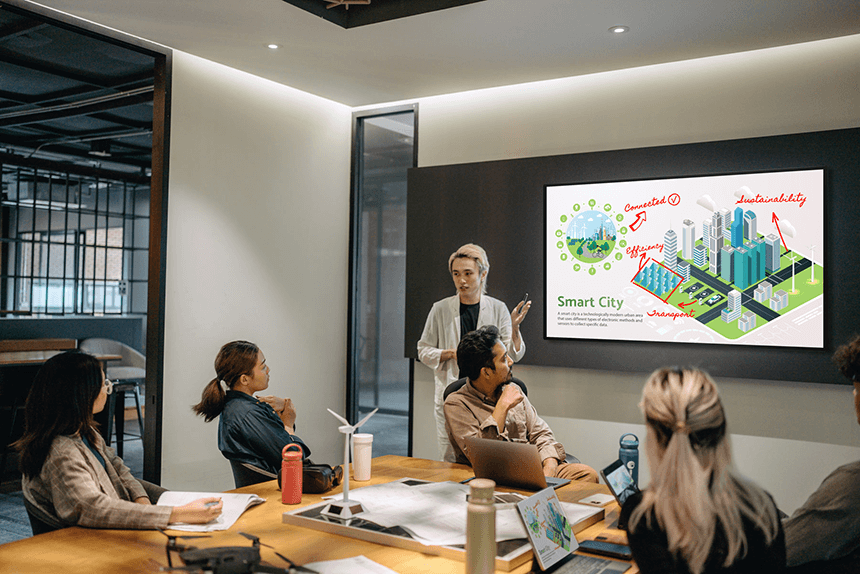 Digital displays have become essential communication tools in corporate offices, retail stores, school campuses, event spaces, and other settings because they enhance collaboration, boost commerce, and improve marketing messages and other information transmission. In appropriate applications, larger displays — typically measuring 70 inches or more diagonally — provide additional benefits beyond smaller displays. Let's examine how larger displays can help you achieve your communication and brand goals.
The Advantages of Larger Displays
When choosing a digital display, it's crucial to consider the overall context of its intended use, including location and environment, the target audience, and the types of content that will be conveyed. In suitable settings, larger displays enable organizations to communicate more efficiently and effectively with employees, clients, customers, and other audiences by providing an enhanced viewing experience that smaller screens cannot match. In these situations, bigger is indeed better.
The top three advantages of larger displays are:
1. More eye-catching
By their size, larger displays excel at grabbing and holding viewers' attention. They present information in a clear, highly visible way, and in many cases, they become the center of attention in a space. Larger screens make it easier for viewers to read or view content from a greater distance.
2. Bigger Creative Canvas
Larger screens also provide a giant canvas for creating dynamic content, expanding the types of content that can be presented and making it easier to design and present complex content.
3. Greater Impact
In corporate environments, larger displays dynamically impact lobbies, impressing clients and other visitors. More extensive displays offer larger images and text sizes for presentations in boardrooms and conference rooms, giving a presenter confidence that no one in their audience is missing vital details and information. In collaboration spaces, larger displays enhance the ability of employees to share information and insights, boosting ideation and productivity.
The same bigger-is-better dynamic holds in other settings where information must be shared clearly and highly visible. In retail stores and event spaces, larger displays provide wayfaring, deliver marketing messages, and offer video and entertainment content. They help businesses connect with customers and maximize the brand experience. In educational settings, larger displays are ideal for auditoriums and large lecture halls, ensuring that even those sitting in the last row can clearly see the information on the screen. In classrooms, larger displays are essential for subject matter that requires close attention to fine details, such as science, engineering, and architecture.
Considerations
When assessing the purchase of a larger display, keep an eye out for these features to ensure that you get high-end quality, reliability, and long-term satisfaction:
1. A panel with adequate brightness — 350 cd/m² or higher — to ensure a better viewing experience
2. 4K Ultra HD native resolution to provide crystal explicit imagery and effective messaging
3. Landscape and portrait orientation to have installation flexibility to meet your needs
4. A sleek, commercial-grade display to ensure longevity and pleasing aesthetics
5. Robust, up-to-date connectivity options to guarantee compatibility with other devices
6. A 24-hour on/off timer to maintain power schedules
7. A multi-year, commercial warranty to protect your investment and give you peace of mind
Technology advances have improved the quality of larger displays while lowering their costs, making them more affordable than ever. With long lifespans, larger displays offer a lower total cost of ownership, increasing the ROI for organizations of any size.
When It's Time to Go Big
Larger displays enhance meetings, collaborations, marketing outreach, and entertainment with eye-catching, high-quality visuals that provide the ultimate viewing experience. They can become the centerpiece of any appropriate space, from boardrooms and classrooms to stores and convention centers.
When considering the purchase of digital displays, it's vital to find the right partner who can provide trustworthy guidance, high-quality products, and ongoing service to ensure that you get the most out of your investment. Stone's Office Equipment, Sharp Imaging and Information Company of America, and Sharp NEC Display Solutions of America offer larger displays built to last, and we pride ourselves on partnering with clients to deliver customized solutions that match their needs. Contact our display expert for more information on larger displays and how we can help you make the right choices for your organization.
---
Questions? Ready for a Free Quote?
Our staff is standing by and ready to help!
Call: (804) 288-9000
Email: info@stonesoffice.com
"*" indicates required fields
Content for this blog was provided by Sharp USA