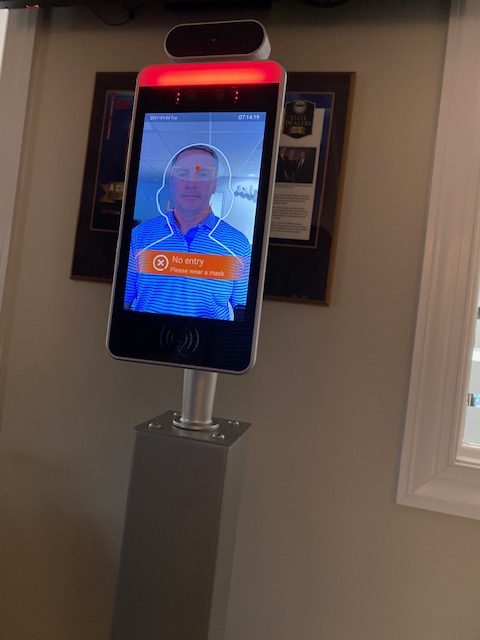 Peace of Mind Temperature Checking
With so many offices reopening and thinking of creative ways to implement safety rules and guidelines, here is the fastest and safest way to check the temperature of your employees and guests. The Temperature Tablet sits on a pole-mounted stand or kiosk. It will accurately give a person temperature reading within one and a half seconds, without any interaction from your staff.
Meets Compliance for Preventative Measures
Virginia is the first state to mandate emergency COVID-19 rules for employers. Last week, the Virginia Department of Labor and Industry voted to implement strict work-place standards in response to the Coronavirus outbreak.
One of the preventative measures mandates employers must establish and implement a system for self-assessment and screening for COVID-19 signs and symptoms and implement procedures that will prevent sick employees and other persons from infecting healthy employees.
With the temperature tablet, employees can be pre-loaded in the tablet, and their temperature and date will be stored. All of this is stored internally with no information shared with outside countries.
Your Return on Investment
There are options for purchasing the temperature tablets; purchase outright or lease. Consider these when looking:
Stand-alone, No Employee Involvement

Not paying someone to check temperatures
Not placing your employees at risk

Employee Tracking and Record-keeping
Fast and Accurate
Costs Less Than a cup of Starbucks coffee a day!
Temerature Tablet Brochure
---
Questions? Ready for a Free Quote?
Our staff is standing by and ready to help!
Call: (804) 288-9000
Email: info@stonesoffice.com
"*" indicates required fields
This is not a intended to be a medical device and Stone's Office Equipment makes no claims or warranties for COVID or anything other than the ability to collect and monitor temperatures with these tablets.