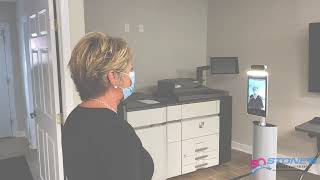 One thing can be said about the technology world when there's a need someone will rise to the occasion to address the need. COVID-19 stopped the world and changed the rules on how businesses run, how churches meet, and how social events look. Now, more than ever, it is time to look towards technology to make your office, employees, and visitors safe.
Employees Returning to Work
Several recent polls show some companies are reluctant to return their workforce until better guidelines are provided to reopen safely. At the same time, others have never stopped working in the office. Either way, the office is still the lifeblood of most businesses. More work gets done in an office, client meeting communications are better in person, training is better in person, and mental health alone is better when people aren't isolated.
Many employees who have been working from home, or furloughed will be returning to an office, only to find changes in how it looked before the spring of 2020.
Businesses of all sizes are making changes to how their office will look when these employees return.
Fewer seats in the lunchroom.
As an example, Sharp recently announced they are reducing the number of seats at their conference room table from 24 to 12 to create more space and promote smaller group meetings.
You can learn more about some of the critical changes businesses are making to protect employees or visitors from coronavirus in this article published in the New York Times.
Science and Technology
In all the bleak headlines, there are some shining moments of powerful new technology, and the exciting part about this is, most are coming from smaller emerging companies, instead of the tech giants we usually read about in the news.
Rapid temperature screening technology is robust, advanced, safe, and extremely efficient, taking temperatures in seconds, reminding employees and visitors to wear a mask. The best part of the temperature tablets is, it requires little human interaction. Meaning you don't have to an employee scanning people for temperatures and putting them at risk.
Cleaning and disinfecting your office space is one of the most important things you can do to ensure your office is healthy. According to the CDC, 80% of infectious diseases transmitted are by touch. While washing your hands is essential, it doesn't stop there. We also recommend cleaning your office equipment, like copiers, printers, scanners, keyboard and mouse, phones, and mail equipment. We posted a video of how to safely and correctly disinfect your office equipment.
You can also disinfect your office more widely by using a cleaning system with an EPA approved product to use against SARS-CoV2.
We have invested time and resources to find solutions and technology to help our clients looking for options. Reach out to us and let us show you some of the ways we can help you.
---
Questions? Ready for a Free Quote?
Our staff is standing by and ready to help!
Call: (804) 288-9000
Email: info@stonesoffice.com
"*" indicates required fields